L

OVE ..... and

ACCEPTANCE
This wonderful story of
Stellaluna
is yet another one of my favorites. It holds so much wisdom in its short story.

Stellaluna

is a unique adaptation of

The Ugly Duckling.

Although this is a fictional piece, the story lends itself beautifully to explore nonfiction themes, especially concerning bats and birds. I have always felt as a human race we are just too quick to judge. I am not really sure why this is so. I find that this story not only highlights the importance of acceptance, it teaches what true kindness and compassion can yield. The first time I read the story (thankfully alone) I was brought to tears by how hard Stellaluna worked to fit in. We certainly do not think of bats as cute and cuddly creatures, yet Janell Cannon's glorious illustrations
make Stellaluna absolutely loveable!
~K~
Stellaluna
by Janell Cannon has long been one of my favorite children's books. I have used this book for various reasons when teaching 7th and 8th grade language arts literacy, including teaching theme and characterization. It never fails that even the "cool" junior high students give a sympathetic reaction to Stellaluna and how hard she tries to fit in. The illustrations evoke such emotions that readers find themselves th

oroughly caring for Stellaluna, with her big eyes, sad face, and floppy wings.
I

tend to use this book to show how one story can have several themes. We discuss the importance of friendship, love, and family!
Unique Teaching Resources provides wonderful lesson plans to align with this story.
The Reading Lady offers a wide variety of scripts for Reader's Theater. Since
Stellaluna
has several characters, this would be a great way to engage students in the book.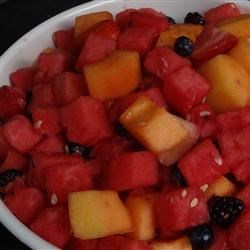 Fruit Bat Salad
Since Stellaluna is a fruit bat, a fruit salad would be the perfect recipe to collaborate with the book. It is a wonderful

way to have children try new fruits as well.
The eHow Mom website has a number of activities to align with Stellaluna. One activity outlines fruit painting which would be a great deal of fun for children. Children can use cut up fr

uit as stamps and create original art.
Bats are often considered in a negative connotation and can be the villains in stories we read. However, Stellaluna proves this stereotype wrong

as Janell Cannon has made her into such a loving and adorable character.
Students can test their creative skills by writing a story about another animal that usually has a negative connotation such as snakes, rats, sharks, etc. Their story should depict the animal in a more positive light and should change people's minds a

bout it.
"And how can we feel so different and be so much alike?" wondered

Pip.
"I think this is quite a mystery,"

Flap chirped.
"I agree," said Stellaluna. "But we're friends.